Not.
Sådan ser der ud på vores ene køkkenhylde for tiden.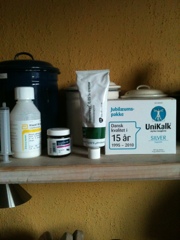 Og så er der ikke en gang noget for min brækkede lilletå eller den ene kats mulige bronkitis.
Anna antages at have lungebetændelse (spytprøve skal først analyseres) og er sat i behandling, og vi har endelig fået afklaring omkring gemalens mærkværdige udslæt, som nu har givet ham kløe (og røde knopper, der er blevet kradset til blods) lige på kanten af vanvid i et par måneder; Lichen Ruber hedder lidelsen. Tænk skoldkopper i kraftigste udbrud og tænk så "ingen behandling, kun håb om let lindring" og… At den forsvinder af sig selv over 12-24 måneder! Han ligner noget, der er løgn, på det meste af kroppen, men heldigvis rammer det tilsyneladende ikke ansigtet, for det vil være svært at have hans job, hvis han var dækket af røde knopper i ansigtet.
Som et lille plaster på såret har jeg købt mig selv en bryllupsdagsgave i mandags: en Kivi. Min nye besættelse er Iittala, og øverst på min ønskeseddel står der Teema- krus og -skåle, Kartio-glas og Kivi-fyrfadsstager. Og da jeg vidste, at gemalen ikke havde købt noget, ku' jeg altså godt selv. 🙂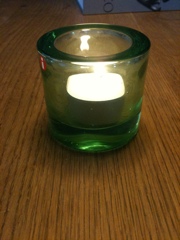 Det var i 1988, Iittala begyndte at lave dem, og det var i 1988, gemalen og jeg blev kærester. 🙂
Derudover speedstrikker jeg. Jeg har villet ta' et foto af boleroen fra sidst, men hverken lys eller overskud er til det lige nu. Og da jeg lige nu er bundet til hjemmet, kom jeg ikke som håber over til Dorthe efter lækkerhedsgarn til julegaveboleroen. Så jeg prøver samme recept som sidst, og dog: sort uld-angora-silke og grådigt Einband. Det giver et meleret udtryk, der i rette belysning godt kan minde om oxideret sølv, ganske fint. Håber bare ikke, at hulmønstret "forsvinder" i meleringen.
(skrevet på, fotograferet med og uploadet fra min iPhone)