…listen to podcasts (and knit/crochet).
For noget tid siden så jeg en anbefaling af en podcast inde på Ravelry (tror jeg det var), hvor jeg følger med i bl.a. fora om iPhones/iPods, lydbøger og strikkepodcasts generelt. Denne hed The KnitWits, og jeg ved ikke, hvorfor jeg fangede navnet, men det gjorde jeg. Måske fordi jeg egentlig altid godt har kunnet li' Ready, Set, Knit fra Webs.com, hvor mand og kone sidder og laver et ugentligt halvtimes radioprogram, der så laves til en podcast. Min anke omkring dette program har bare været, at der er for meget reklame ind over – hvilket jo for så vidt er ganske indlysende, at der er, eftersom et er et lokalradioprogram, lavet af to garnbutiksejere.  Men det er ret irrelevant for en lytter bosiddende i Danmark, og så har det bare fyldt for meget for mig, i et i forvejen relativt kort program. Men anbefalingen omkring KnitWits lød sikkert bl.a. på, at det var et ægtepar, der sad og småsnakkede. For det er det. Og de er så søde. Og hyggelige.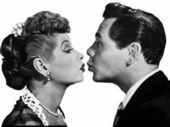 Hvis man først hører, at manden er tidligere radiovært og nu stemme-skuespiller og hun er tidligere cheerleader kan man måske tænke sit, men iiiih, altså…lyt lige til den mands stemme! Og tilsammen er de virkelig hyggelige at lytte til, ikke for indforstået men alligevel lige nok til, at man føler sig godt hjemme med dem, hvis man deler deres humor. Ind i mellem er der måske lidt for meget sjov med ind over med lydeffekter og lignende, men nu er jeg kun nået til 4. afsnit og de er stadig ved at prøve at finde et koncept. Man bør gøre sig den tjeneste at prøve at følge med fra starten – de er ret nye men det er meget professionelt sat op, eftersom manden jo har sit eget lille lydstudie derhjemme, og det er en af de ting, jeg går meget efter; for mig skal det helst lyde som et radioprogram og ikke som en telefonsamtale.
I samme ombæring har jeg endelig taget mig sammen til at få slettet mit podcast-abonnement på Cast On. Nu gider jeg simpelthen ikke høre på hendes idiosynkrasier længere. Jeg kunne godt lide hende, da jeg begyndte at lytte til podcasts, netop bla. pga. hendes stemme og den meget professionelle lyd, og jeg syntes det var skægt at opleve hende igennem "The Fourth Plinth"-begivenheden, men der er alt for regelmæssigt den ene eller anden slags brok over lytterne ind over eller hvor håååårdt det er at lave podcasts og alt sådan noget, og når jeg hører sådan noget, så tænker jeg altså altid; "Jamen, så hold dog op, hvis det er så hårdt for dig…?" Det er helt frivilligt, det hun gør, hun bliver ikke tvunget (men er til gengæld sponsoreret), så det virker altså i mine ører af og til lidt utaknemmeligt. Så ud med hende.
Ses vi måske i Fredericia i morgen? Jeg ses der i hvert fald *s* – med Tina og en af hendes veninder. Min messe-debut, yay!