…..zoooooooom…….og sÃ¥ gÃ¥r man fra dette: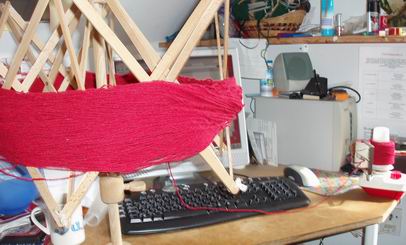 til dette: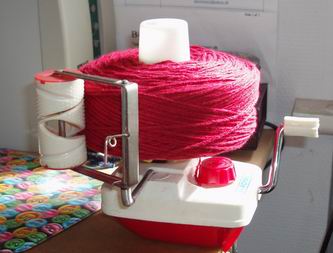 Men det ved I jo godt. ;o)
Trine var helt vildt hurtig og jeg havde knap nok skrevet mit indlæg tidligere, før der kom en mail om at hun havde præcist sÃ¥dan et apparat, og at hun gerne ville vise mig fotos af det i brug, sÃ¥ jeg ku' "regne den ud" uden at skulle miste for mange af de smÃ¥ grÃ¥ pÃ¥ det. :o)
Og Dorthe H (jeg kan ikke huske din blogadresse? :o( ) kunne sÃ¥ bekræfte min lille mistanke om, at det faktisk er en kegle-opvinder/cone winder, altsÃ¥ til opvinding pÃ¥ kegler. SÃ¥ kunne jeg derved finde frem til en skreven instruktion i at bruge den. Der er blevet foreslÃ¥et at bruge toiletpapirsruller at vinde op pÃ¥ i stedet for den medfølgende kegle, men jeg vandt det bare op direkte pÃ¥ apparatet…og den Ã¥d faktisk et helt fed, 250 gram, af det tykke bomuldsgarn, jeg købte i Netto i gÃ¥r i deres "1 kilo garn for 50 kroner"-tilbud! Wow.
Der bliver hentet gode og billige fund hjem til matriklen for tiden..bare det bliver ved. 🙂
I figured it out, almost all by myself *giggle* Wow, this cone winder can eat a lot of yarn – I wound a skein of 250 grs thick cotton onto it without problems.