Og det er en god lyd. Ikke at jeg har noget imod lyn og torden, det hygger jeg mig med (sÃ¥ længe jeg er inde i tørvejr, hvis bragene følges af vandplaskeri), men dette ER ogsÃ¥ en god lyd…det mÃ¥ være en af fordelene ved at kende "sin" hÃ¥ndværker personligt/perifert, for vi var knap nok stÃ¥et op i dag (vi kunne sove længe i dag, helt til kl. 7 *s*), før det braaaagede løs lige ved siden af, hvor vi havde sovet. Lars, vores tagmand, var nemlig gÃ¥et i gang. Jeg har overvejet at tage et foto ud ad vinduet her fra min 1.salspind, men sÃ¥ er der det med registreringsloven etc. *s* Men der ser vildt ud i gaden i disse dage, for vores genbo fÃ¥r lagt nyt tag pÃ¥ deres parcelhus – og de er ikke ret hurtigt, de to fyre der udfører dét arbejde. Jeg er fristet til at tro, at vores mand vinder, ene mand. *hihi* ("Vores mand" er gift med en, jeg var i mødregruppe med for 2 Ã¥r siden, han er siden dengang gÃ¥et selvstændig som taglægger og med 5 børn under 8 Ã¥r er der jo brug for en indtjening, nÃ¥r "konen" pÃ¥ 26 gÃ¥r derhjemme *s*). Udover de to tag, der bliver lagt lige pÃ¥ hver sin side ad gaden, som ind i mellem skaber et enormt trafikkaos pga. lastbiler med stilladser, lægter, tagsten, containere etc., sÃ¥ bliver der ogsÃ¥ sat lygtepæle op for tiden lige pÃ¥ vores stykke af vejen. SÃ¥ mit lille vindue giver mig masser af liv at se pÃ¥ ude i verden.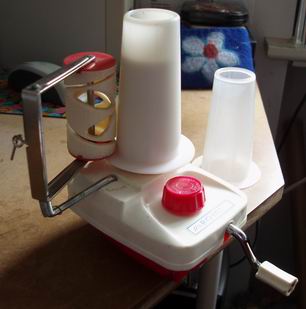 Og sÃ¥ kom posten lige med dette apparat. Det kostede mig 85 inkl. porto via Trendsales, men hvad ER det? Det blev solgt som en "Royal garnvinde"! Det er i hvert fald gammelt, og japansk, udover at det hedder "Royal". Men det ligner ikke helt de krydsnøgleapparater, jeg har set. MÃ¥ske er det bare, fordi jeg aldrig HAR set et krydsnøgleapparat tæt pÃ¥ for ikke at sige i aktion. Men keglen plejer da at stÃ¥ pÃ¥ skrÃ¥? Og hvad der den der rulle i venstre side til? Er det en kompensation for, at keglen stÃ¥r lodret, sÃ¥ den laver krydsene korrekt? Hjælp!? :o)
Jeg fik lige en lidt kedelig mail fra min mor i dag; hun har slet ikke haft overskud til at se pÃ¥ butikken, for for det første er min ene fætter helt ubegribelig ubehjælpelig – han er blevet optaget pÃ¥ universitet, men har slet ikke kunnet tage sig sammen til/finde ud af at følge op pÃ¥ det, sÃ¥ han sidder stadig i Haderslev – og han begyndte pÃ¥ Ã…rhus Uni i gÃ¥r!? Min mor hjælper ham af flere personlige Ã¥rsager med at finde et sted at bo, fÃ¥ penge at leve for etc.
Samtidig var der i mailen en kedelig beretning om min gamle mormor, der var gÃ¥et ind til naboen i de beskyttede boligomrÃ¥de, hun bor i, for at sige, at hjemmehjælperne bevidst prøvede at tage livet af hende med overdosis af medicin. SÃ¥ endnu et skridt er vist ved at blive taget mod…enden. Godt det samme…trods alt. HÃ¥ber vi…
Our roof is being replaced and I am sitting right below the massive thunder the work creates – it can feel quite scary now and then and somehow I'd prefer real thunder and lightning, but on the other hand this needs to be done and has been put to work very quickly so it's also a good "thunder".

I just bought this "thing". I could not see a picture of it when I bought it online but the description sounded okay…but now I am baffled…it does not look like a regular ball winder? Maybe it's just because it's so old…?